Socodd
SOCODD, COCOA, IVORY COAST (PRODUCER)
SOCODD (Société Coopérative Dialogue de Djékanou) was founded in 2010 by 150 producers from three villages, who decided to come together with a shared vision of improving livelihoods for farmers. Today it has 3,795 members (10% women) from 42 producer groups spread over 32 communities.
Geographically, SOCODD is located in Djékanou, which is in the Bélier region, otherwise known as central Ivory Coast. In terms of product range, the co-operative produces cocoa (95%), coffee (4%) and cashew (1%). They provide farmers with cocoa seedlings and fertilisers and support female farmers to produce rice and cassava to help feed their families. At the beginning of each academic year, SOCODD distributes books and stationary packs to farmers' children, in preparation for school. 
Shared Interest provided SOCODD with an export credit facility in 2017 and the following year, we provided further support to increase production and purchase more cocoa from their members. In 2019, we helped finance their diversification into cashew nuts but the development of this new income stream was hampered by the impact of the pandemic. However, in 2021 things started to look more promising. 
SOCODD members grow cocoa trees on small farms, harvesting for four months during the main season, while the minor harvest season lasts for two months. They allow the harvested cocoa to ferment and dry naturally for several days to increase the quality and flavour of the beans. After the beans are dried, these are packed in jute sacks supplied to each farmer by SOCODD; the sacks are branded with the logo of the relevant export buyer. 
The cocoa is first delivered to a quality control facility before being taken to the central warehouse at Djékanou. Some buyers carry out a final quality check before shipment via San Pedro or Abidjan. 
Unfortunately, in addition to other challenges, SOCODD is experiencing higher operational and port services cost due to shortage of containers. As a result they are hoping to use their Fairtrade Premium to buy two additional trucks and build a central warehouse in Abidjan to ease the export process. 
Further to receiving Fairtrade certification in 2015, SOCODD also received a Fairtrade trader certification in 2020. This allows them to source Fairtrade cocoa outside of their own membership to meet buyer demand. 
During our Producer Committees, SOCODD farmers told us that: 
They are experiencing the impact of climate change - changes in the weather affect harvest times, causing fluctuations from year to year, even on the same farm. Erratic rainfall in particular is affecting yields. 
There are challenges associated with higher freight rates and longer transit times. However, buyers are aware of these challenges and have been open to reschedule orders accordingly. 
They have good relationships with their farmers, which they believe is partly due to making timely payments. Fairtrade Premium Fairtrade has the highest fixed Premium of any independent certification scheme. This additional sum of money goes directly to the producers' co-operatives on top of market price. Farmers and workers invest this money in social, environmental and economic development projects to improve their businesses and communities. They decide democratically how to invest the Premium. In direct response to the pandemic, Fairtrade International announced increased flexibility to its Standards. This meant that many of our customers were able to spend Fairtrade Premium funds to safeguard the health and livelihoods of farmers, workers and their communities. 
SOCODD continues to improve the livelihoods of the members by expanding their market opportunities. In 2020, they completed the following projects using the Fairtrade Premium: 
Construction of a courtyard and teachers' accommodation for a primary school. 
Construction of a three-classroom block for a community school. 
Free distribution of school kits to pupils in the same school. 
Construction of boreholes powered by solar energy to facilitate access to clean water for two communities.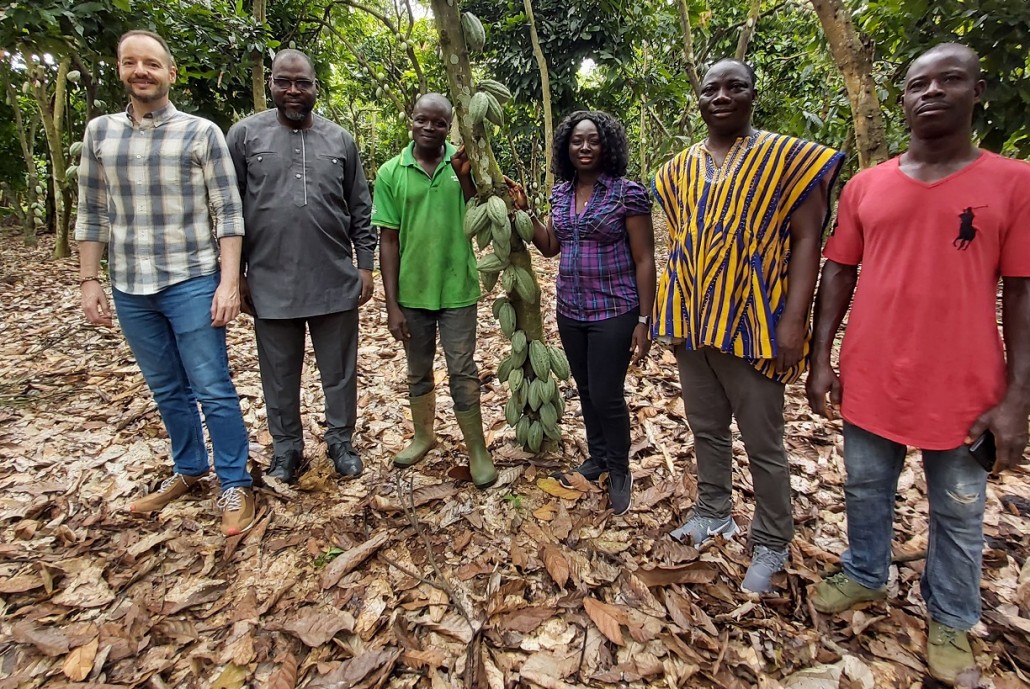 L to R: Paul Sablich Head Of Lending, Kwami Dekonor (Lending Rep WA), Innoussa Zongo (Producer) Grace Kuwornu (Customer Rep WA), Adama Dicko Export Manager SOCODD, Divine Buo (Lending Manager WA), Yao M'Bandama (Producer). Shared Interest Head of Lending and West Africa team visited SOCODD last September
Back to map