Educe
Educe: Fairtrade Honey Producer in Mexico
Educe are a honey co-operative, working with almost 1,000 beekeepers in the Yucatan Peninsula of Mexico. This area is known for its production of high-quality honey, particularly from the Melipona bee, which is native to the region. These bees are stingless and are known for their unique honey, which is prized for its medicinal properties and distinct flavour.
For Mayan communities, bees and honey have always been sacred. The honey produced in the region is harvested using traditional methods, which involve using small wooden boxes called "cajas" to house the bees and collect the honey. The cajas are placed in areas with abundant flowering plants, and the bees are left to forage and produce honey at their own pace.
Once the honey is ready it is extracted using simple tools and techniques with minimal disruption to the bees and their habitat. However, honey pricing is volatile and can fluctuate from season to season. Consumer demand can drive these changes, and ultimately it is the beekeepers who suffer when the price is low.
Pictured: Vitaliano Cahuich (73). At first sight, you will never believe he is a man in his 70s - with all the work he does and how energetic he is - he jokingly says it might be the bee stings that are the reason for this phenomenon.
Invest Today
Speaking on Certifications
Educe's honey is organic and Fairtrade certified, and the co-operative told us that certifications enable Educe to stay competitive in the honey market and achieve a higher price for their produce. Commercial Manager, Leonor López, said: "There are more and more regulations, demands and requirements from the government and from importers. So for Educe we need those certifications to be able to defend the honey price that we have for producers and the quality that allows that price."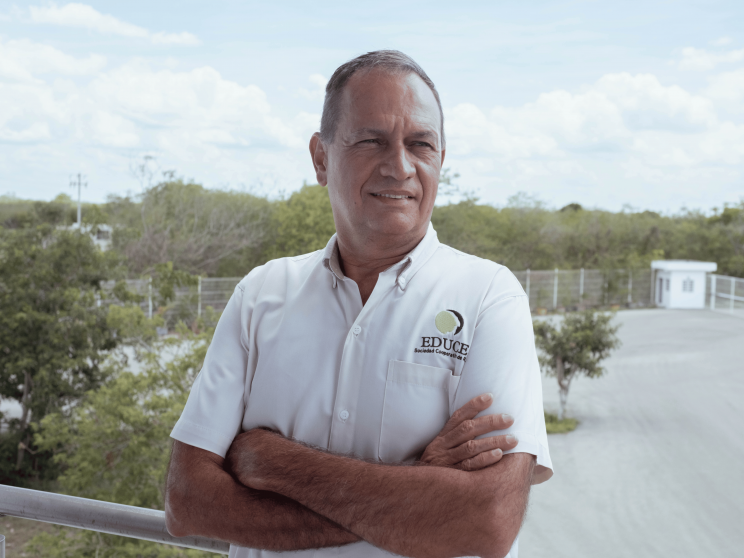 Miguel Ángel Munguía Gil, General Manager, said:
"The certifications have been key for our beekeepers to obtain better prices, and consequently to have access to more social satisfactions, such as education for their children, health and home improvements.
"We are certified organic by Certimex for the European Union and additionally, Naturland for Germany, Biosuisse for Switzerland, National Organic Program (NOP) for the United States. We also have Fairtrade certification."
Products from the Producer
Interested in supporting EDUCE by directly purchasing their product? You can find EDUCE's range of organic products catalogued on their website, alongside their contact details, within the link below:
Purchase EDUCE Honey