Cocopack
COCOPACK, coconuts, Ivory Coast (producer)
COCOPACK is a Fairtrade coconut producer based in Ivory Coast – the first organisation to obtain FLO certification for coconut in Africa, and the first coconut producer Shared Interest has financed.
A family initiative which has grown over the years, COCOPACK primarily produces coconuts for export. In 2014, in order to expand and strengthen their business relationship their buyer Agrofair introduced them to Fairtrade.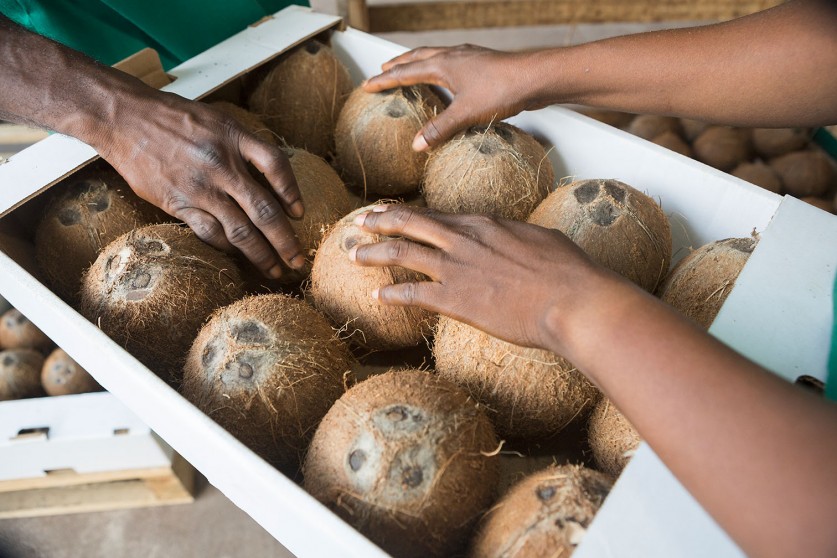 General Manager, Renaud Goirand, said:
"The loan will enable us to solve a number of challenges, it will allow us to purchase a tractor to improve efficiency, upgrade our fruit processing plant and replace and improve personal protective equipment."
Reaching new heights in Ivory Coast
COCOPACK is a major employer in Grand Bassam, especially of women who make up more than 70% of the workforce. The company has facilitated training for employees and provided development opportunities. The plantation workers and farmers have also been trained on good agricultural practices and on the issue of child labour, which is prevalent in Ivory Coast.
COCOPACK has been operating in Ivory Coast for more than 10 years and has grown quickly. The mission of the organisation is to respond to food security and environmental protection concerns, and to provide quality products to its European buyers.
They are using a Shared Interest loan to grow their business to meet market demands. The loan will help them acquire moveable equipment, including two tractors as well as equipping the factories with tools to improve productivity. The loan will also go towards renovation and expansion of the fresh fruits processing plant. They expect to increase this line of activity by 40%.
Read more about COCOPACK in QR95-WEB (1).pdf.
Back to map