Bshirt
BShirt, clothing, UK (buyer)
Created by two mums, The Bshirt is an award-winning brand known for its innovative breastfeeding clothing design and 'slow fashion' approach to maternity clothes. According to Co-Founders Lisa Lessware and Philippa Doyle. From her experience as a Breastfeeding Peer Supporter, Lisa knew that some women felt forced to wear outfits that were uncomfortable and restrictive so that they could cover themselves when feeding in public. She often suggested that they cut holes in a T-shirt to wear as an undershirt as she found it a great solution when she fed both her sons.  Eventually, Lisa started making this 'breastfeeding layer' for friends and one day she showed her creation to Philippa, who loved the idea. Together, they spent the next two years perfecting the designs of the vest, intended to adapt a woman's existing wardrobe for easy breastfeeding.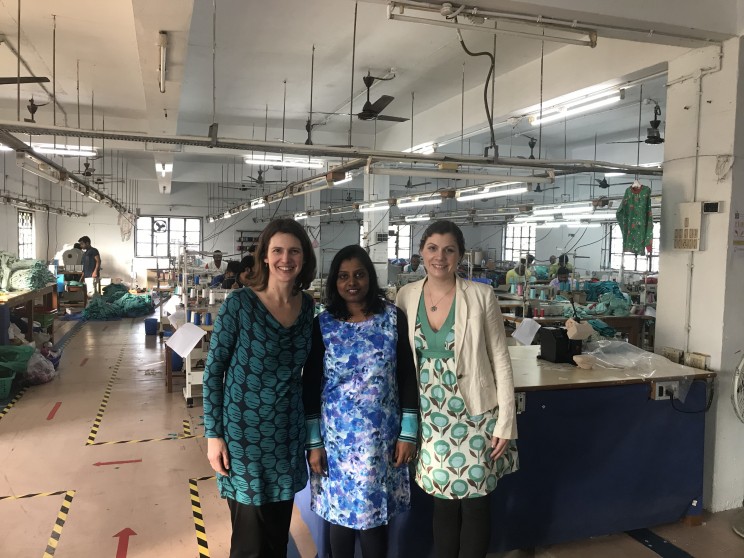 Co-Founder Lisa Lessaware
"We struck up a friendship when we had our children and we are both really passionate about breastfeeding. When we discovered that the UK has one of the lowest breastfeeding rates in the world, we decided to do something about it."
BREASTFEEDING CLOTHES WITH A CONSCIENCE
All Bshirt products are certified Fairtrade and Organic. Lisa said: "As a slow fashion brand and to encourage longevity, there is also a preloved section on our website. Customers sometimes order the wrong size when purchasing online and some UK retailers simply send the returned items to landfill, because the cost of repackaging them is often more than the original cost of the stock.
"We feel that practice is horrendous and we offer returns, which are in good condition, for sale at 50% of their original retail price. This allows items to have another cycle of life and keeps them out of landfill. Clothing waste is the second biggest pollution problem - second only to plastic - and we feel it is our responsibility to sell responsibly.
"We hope that one day all companies will think of how they can improve the lives of their customers, rather than exploiting them with 'must have' consumerism. We cannot continue to create waste at the current rate if we are to preserve this planet for our children's future.
"This is why we will never sell or promote 'wardrobe replacement' items - all of our products are designed to adapt a woman's existing wardrobe to become breastfeeding friendly."
Back to map