Invest Your Time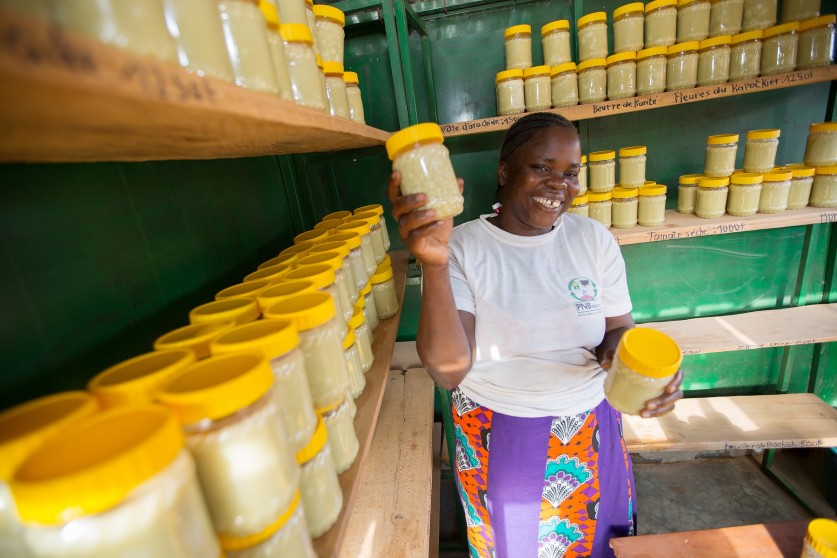 Invest your passion
Shared Interest volunteers work within their own community to change lives around the world.
We draw on the support of volunteers to help us reach potential investors across the UK.
Join our network of volunteers and invest your skills, experience, passion and knowledge to support us in helping fair trade businesses.
Image: UGF/CDN shea nut farmer Jeanne Kayala selling shea butter on a farm in Burkina Faso.
The roles
Shared Interest has a variety of voluntary roles including:
OUR AMBASSADORS help people to find out more about our organisation. From manning stands at events, handing out promotional leaflets, to speaking at their local community group our ambassadors help to raise investment here in the UK so that we can finance fair trade organisations worldwide.
OUR COMMUNITY SUPPORTERS share their passion and enthusiasm to support Shared Interest at local events in their area. This can include supporting ambassadors or staff at events and distributing promotional resources.'
OUR ADMINISTRATION SUPPORTERS help at our Newcastle office with administration and sorting resources.
OUR DATA ENTRY VOLUNTEERS support us with ad hoc data entry activity such as our member survey.  This role is home based but requires volunteers to be based near our Newcastle office.
OUR TRANSLATOR VOLUNTEERS enable us to communicate more effectively with our overseas customers and partners.