Types de Financement
NOTRE FINANCEMENT CHANGE DES VIES
Notre principal objectif est de soutenir les petits producteurs et les groupes d'artisanat, en prêtant de deux façons : directement aux producteurs du commerce équitable et aux grossistes ou détaillants.
Nous prêtons pour soutenir des produits issus du commerce équitable tels que le café, les fruits frais, les noix et le cacao, ainsi que des produits d'artisanat comme des paniers tressés ou du mobilier.
Notre volonté est d'aller plus loin que le financement à des conditions équitables. Les sociétés de commerce équitable que nous accompagnons affirment que, grâce à nos membres, elles ont pu contribuer à transformer leurs communautés.
TYPES OF FINANCE OVERVIEW
Short-term (1 year - renewable)
Pre-finance as working capital against individual orders to facilitate trade (Export Credit/Buyer Credit) - Revolving Facility
Stock facility to build up stock, buy seasonal raw material or support pre-harvest activities prior to fixing sales contracts
Long-term (1 to 5 years)
Term loan to purchase infrastructure or equipment to build capacity and/or profitability (1 to 5 years)
Plantation renewal loan to support against the impact of agricultural pests and disease (1 to 7 years)
KEY FACILITY FEATURES
Lending in GBP, USD or EUR up to USD
Variable interest rates
Interest cost is charged daily on the outstanding balance
One-off set-up fee of 1%
Annual renewal fees can apply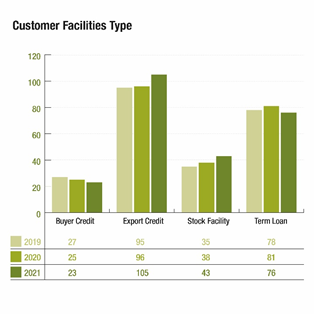 Apply for finance
LENDING PRODUCTS FOR PRODUCERS
Export Credit
Pre-finance as working capital against individual orders or contracts to facilitate trade. One of the unique aspects of Shared Interest's export facility is the automatic mechanism where by any payments received through the producer account are used to repay monies borrowed on orders that have become overdue.
This type of finance is very important to producers as, the payment terms when they sell a product can be long and very hard to manage. Add to that the time taken to ship and deliver it overseas and this time period can extend even further. Even with careful financial management, exporting goods can place an incredible financial strain on your business. Export finance offers a way for businesses to release working capital, by providing pre-finance against individual orders or contracts.
Features
12 month revolving credit facility for the producer available for use against specific fair trade- orders. As orders are repaid, you can draw down working capital against new orders, up to your maximum limit.
Can only be drawn against confirmed orders from buyers who have been approved by Shared Interest (these could be commercial or fair trade buyers)
Pre-finance up to 80% of the value of any confirmed order (usually 60% for commodity orders) at the instruction of the producer. If the buyer organisation has already made a prepayment then we can pre-finance the remaining percentage that will take the total level of pre-payments to a maximum of 80% (60% commodities) of the order value
Repayment is usually made via the buyer directly to Shared Interest. The borrowing and accrued interest is repaid to Shared Interest when the buyer makes the final payment for confirmed orders to the producer through Shared Interest bank account or if also a customer via its account. The amount borrowed and interest accrued is deducted and the remaining funds are transferred.
Term Loans
To help producers build capacity and/or profitability. For example by purchasing essential equipment that will contribute to achieving overall business development.
The amounts are based on the type of infrastructure/equipment and the financial situation of the organisation. In regards of the plantation renewal, the amounts are based on the technical plan for plant renewal. The maximum repayment period is 5 years. This period can be extended to 7 years for existing coffee producer customers borrowing for plantation renewal to resolve yield issues such as leaf rust (Roya).
Features
Disbursements are made, preferably in tranches, though the customer is allowed to drawdown the full amount. If possible payment is made direct to the supplier.
A deferred capital repayment period of up to one year can be offered, though any interest that accrues during this period must be repaid. In this case the repayment period will be reduced to a maximum of four years thereafter, in order to ensure that the term of the loan does not exceed five years
Repayment plans are flexible with the potential to take monthly, quarterly, bi-annually or annually repayments, either directly or via buyer payments
Interest payments can be made on either a monthly, quarterly, bi-annually or annually basis
Early repayment is possible and no fee is charged providing the loan has been in existence for more than 18 months
Stock Facilities
To secure stock when harvests are unpredictable and contracts have not been finalised. The limit and withdrawals are defined based on the projected cash flow.
Features
Stock facilities may be approved for new and existing customers
Automatic renewal in each subsequent year is possible so long as the funds are fully repaid within a 12-month period
There must be a reasonable gap (30 days would be usual) between the repayment of one Stock Facility and the drawdown of the next
Repayments are flexible. You may make regular repayments or a one-off repayment, either using buyer payments or direct repayments.
There is also an option to make one off capital repayments without early repayment charges being applied
Apply for finance