Seed to Stall: Increasing self sustainability through soilless vegetable farming
Project 1
Location: Bobo-Dioulasso, Burkina Faso
Project participant: 200 women
Duration: 12 months
This 12-month project is supporting 200 economically vulnerable women, who live in the semi-urban areas around the city of Bobo-Dioulasso. The aim being to increase their income through the production and sale of organic vegetables, using an innovative soilless farming technique.
Access to land, climate change and limited knowledge of farming practices are barriers that prevent women living in these semi-urban communities from earning a meaningful income from agriculture.
Supported by local partners including the University Nazi Boni & Ministry of Agriculture, the group are producing vegetables in greenhouses, utilising solar powered drip irrigation technologies to ensure year round production, despite severe climate challenges.
Disused land has been transformed into a productive farming area, generating a sustainable source of income for the women and increasing the availability of local organic food. Yields achieved using this technique are 300% higher than crops grown using traditional methods.
This project is delivered in partnership with Platforme Nationale du Commerce Equitable Burkina Faso (PNCEB), the fair trade network of Burkina Faso, and Groupe d'Action des Femmes pour la Relance Economique du Houet (GAFREH), a women-led organisation based in Bobo-Dioulasso which supports over 6,000 women to become economically empowered.
"This project has brought new hope to the women of this community. This project will create jobs and change the lives of many people living here."
Christine Lamizana Gouba, Chairperson of GAFREH.
This project is funded by Guernsey Overseas Aid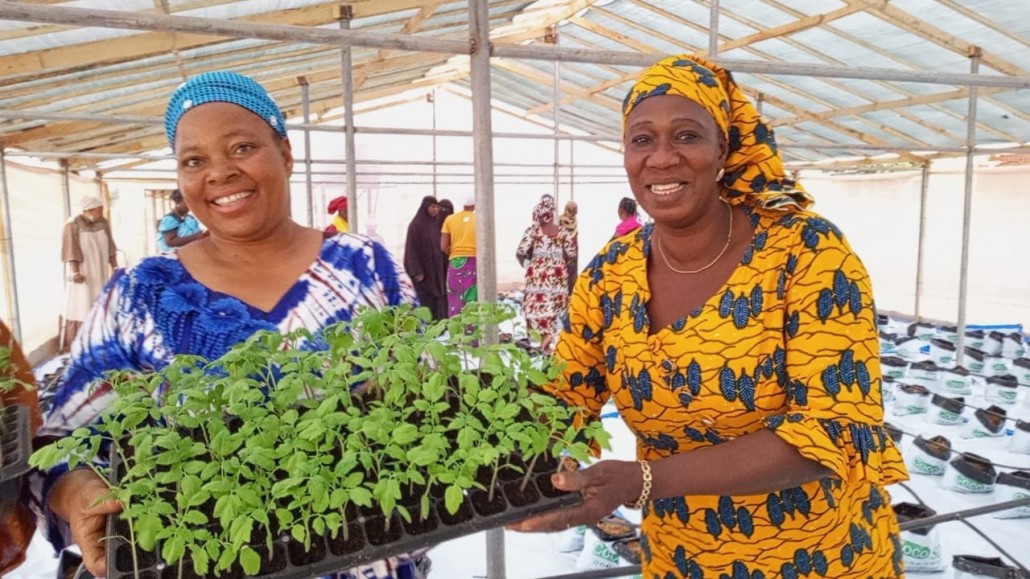 Project 2
Location: Bobo-Dioulasso, Burkina Faso
Project participant: 30 women
Duration: 12 months
Through implementing the same soilless production technique as described above, this project is supporting 30 vulnerable women, who live in the semi-urban areas around the city of Bobo-Dioulasso, to increase their household food security and financial resilience through the domestic production of organic vegetables.
With the delivery of training in soilless farming methods and provision of production equipment, 30 household are now growing organic vegetables on land surrounding their homes which was previously unsuitable for agriculture. The vegetables produced will be used for household consumption, and the surplus sold on the local market for additional income.
This project is delivered in partnership with PNCEB and GAFREH and funded by the Evan Cornish Foundation.
Image: Bibiana Sali Traore standing next to her soilless vegetable farm outside her home.
Back to projects