Providing Sustainable Solutions To Poverty
In 2016 we started a three year project working in partnership with Malawi Fairtrade Network (MFTN) to reduce poverty levels among their member producers. The network's income had been declining in recent years as, due to a decrease in produce sales, members have been unable to pay their membership fee impacting upon MFTN's ability to provide adequate support to their members.
The project supported tea, macadamia nut and groundnut producers from five co-operatives across Malawi. Through a programme of business training, mentoring and workshops on good agricultural practices we supported producers to improve the quality of their crop, increase their sustainability and increase their sales.
"This training has helped us a lot. Previously we were just doing agriculture as just the culture of farming. But, with this training, we are doing agriculture as a business where by we do planting and monitor the plants and see if we have a profit. Otherwise we would just be doing the farming without knowing if we are making any business and any profit.
So since that time we have been making profits. This training has lifted us a lot because we are doing our farming now as a business". Samuel Himacul, macadamia nut farmer
Back to projects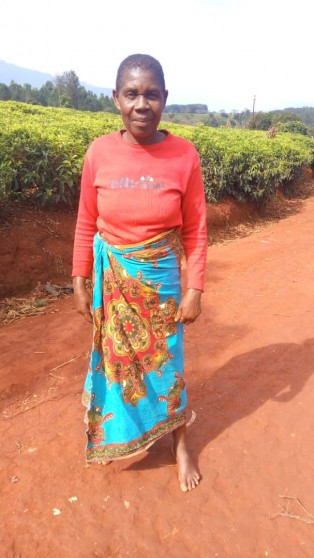 Mary Piyo, tea farmer
Thuchira Tea Association are one of five co-operatives who have received training through this project. Thuchira provides a livelihood for 8,325 tea farmers (60% female). The training they received in Good Agricultural Practices including harvesting techniques and soil management enabled farmers to increase their yield, improve the quality of their product and increase their income. Further training in Business Planning has increased the sustainability of the cooperative ensuring they can pay their farmers on time and support the business to grow.